Perforated 75mm disc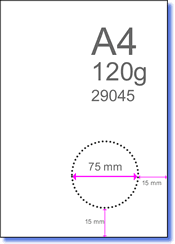 A4 120g sheets, with a perforated 75mm disc - the exact same size as the old car tax disc. The disc is positioned 15mm from the right and bottom of the sheet - so you can print edge to edge on the disc if you need to. The rest of the sheet can be used for a covering letter and additional informaiton.
These laser quality A4 120g sheets - are suitable for both laser and inkjet printing - including double sided printing. Create your design, print, then simply detach the disc along the perforated edge.
So far we have supplied these tear-out discs to local authorities and residents associations for parking schemes and vehicle access badges. Some vintage car enthusiasts use these perforated sheets to create their own novelty replica tax discs suitable for the period of their vehicle.
75mm perforated disc on A4 sheet

| 75mm disc on 120g A4. | Per Box | £ | Buy |
| --- | --- | --- | --- |
| 29045. 75mm perforated disc on A4 120g sheet. 250 sheet box. | 24.00 | 24.00 | |
| 29045. 75mm perforated disc on A4 120g sheet. 2 x 250 sheet box. | 22.00 | 44.00 | |
| 29045. 75mm perforated disc on A4 120g sheet. 4 x 250 sheet box. | 18.00 | 72.00 | |
Flat rate £10 carriage on all orders to UK mainland destinations. All prices subject to VAT at 20% for UK orders. Please contact us for other destinations. All prices correct at 17/12/2018.
Uses
Ideal for local authority, parking control, vintage and novelty vehicle tax discs.
Microsoft Word shelf edge template

Microsoft Word (2007 and later) template for use with 105mm x 38mm shelf edge paper, 75mm tear off disc, ref. 29045.
Templates provided "as is". It is basically a word document with a fixed position 75mm circle. You can change font, colours, alignment, add images and barcodes, basically anything you like. Some users output data from a database to this sheet in the form of a mail merge.